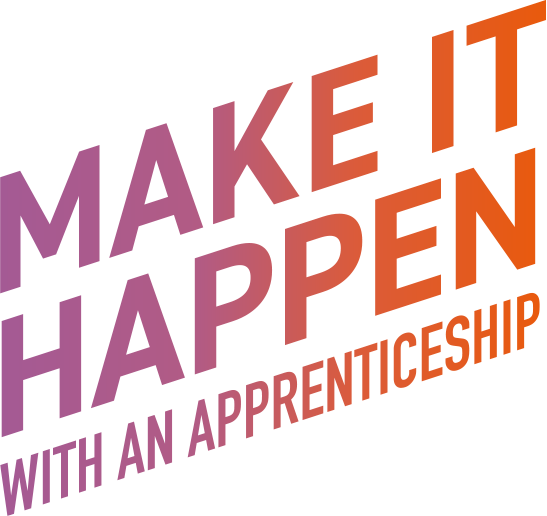 FIND THE RIGHT
APPRENTICESHIP
FOR YOU
What is an apprenticeship?
In brief, an apprenticeship is a job with training.
You'll spend all or the majority of your time in the workplace and some time or perhaps none at all within College.
You'll earn a wage. There's no set salary for an apprentice, it depends on the role and the employer. However, the minimum you can be paid is the national apprenticeship average per hour and this includes any time you spend in college or completing off the job activities connected to your apprenticeship.
There's four different apprenticeship levels:
| | | |
| --- | --- | --- |
| Apprenticeship | Level | Educational Equivalent |
| Intermediate | 2 | GCSE |
| Advanced | 3 | A Level |
| Higher | 4, 5, 6 & 7 | Foundation Degree and above |
| Degree | 6 & 7 | Bachelor's or Master's Degree |
As an apprentice you will gain an abundance of relevant work experience, develop job-specific skills and receive support throughout from your dedicated College Training Officer and employer.
Is an apprenticeship right for me?
An apprentice can be anybody; any age, any level of previous study and in almost any industry.
To be successful as an apprentice you should want to challenge yourself and enjoy learning on the job. You need to be self-motivated and be able to manage your time well.
Being an apprentice isn't easy, it requires a commitment to a career path. But you'll be rewarded by consistent self-development and a wealth of industry experience. 
Why choose Calderdale College?
We deliver a wide and diverse range of apprenticeship qualifications covering 25 different sectors, including Construction, Digital Marketing and Leadership & Management.
On an annual basis we train over 500 apprentices, working with over 3,000 local and national employers, ranging from micro-businesses to some of the region's largest employers.
How to apply for an apprenticeship?
Before thinking about applying, you need to know what industry interests you. Do you want to work in Beauty Therapy, on a
construction site or in a city office in a suit and tie? Think about your
interests and your past experience and then start looking at opportunities.
Every profession has an apprenticeship standard that outlines what you'll be trained and assessed on. Do your research to ensure you
choose the right apprenticeship.
Once you have a good idea of what interest you, you can browse our vacancies. You can also create a CV and apply to businesses direct.
If you find your ideal employer and they want to take you on as an apprentice, we can help you make that happen. Let us know and we can make contact and take those next steps to your successful enrolment.
Apprenticeships can also be used for currently employed staff to support professional development. If you are considering this option, we can work with you and your employer to find the right apprenticeship.
Supporting Employers & Students
Our apprenticeships offer a wide range of benefits for both apprentices and employers. Every year we support 100s of people into the workforce by matching them with apprenticeship vacancies.
Every year we support 100s of employers to fill their vacancies by developing and embedding the apprenticeship programme, screening and matching suitable candidates minimising the time you spend on the recruitment process. Our team of 30 fully qualified and experienced Training Officers will deliver training in the workplace, reducing the time apprentices need to spend away from their everyday job.
We offer training solutions to all staff, whether new in post or existing staff who want to up skill.
We train 500 apprentices annually
We work with 3000 local and national employers
25 different sectors and industries
30 fully qualified training officers with industry experience