The
New

Qualification
Equivalent to

3 A-Levels
2-year qualification, designed by businesses.
Qualifications in Health, Digital, Business & Childcare.
The next level qualification
at Calderdale College
Take the next step towards your dream career with a T Level at Calderdale College!
This fresh new qualification gives you the chance to develop your knowledge after your GCSEs – it's a great alternative to A Levels, BTECS and apprenticeships!
T Levels have been designed by the Government with businesses, to make sure you walk away with your qualification and all the current skills and knowledge you need to get on the job market and start your career!
This two-year qualification for 16-18 year olds, combines industry experience with classroom study – think of it as a mixture between apprenticeships and BTECs!
You'll spend 45 days on an Industry Placement where you'll get to put your skills into practice with the help of a local employer.
Study one course and get 3 A Levels

Exam and project based – there's no coursework here!

80% class study / 20% industry placement

It's a direct route to your dream career

Develop skills and knowledge ready for employment

This is a higher level of study that goes beyond the basics

You get to work on projects for real employers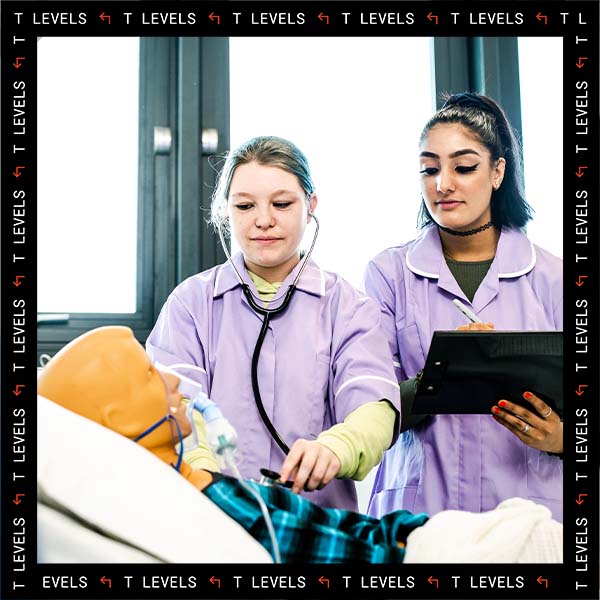 What T Levels are on offer at Calderdale College?
Digital Skills, Media & Computing
Your next step on the ladder to T Levels
Have you just missed the criteria for studying a T Level at Calderdale College? Don't worry!
From September 2022, Calderdale College is offering a one-year programme so you can progress onto your desired T Level course the following year.
Preparing you for the new, next level qualification, this one-year course will give you up to two resits in your GCSE Maths and English, along with a full qualification and a work experience opportunity to get you ready for the Industry Placement.
More information coming soon…
What else do I need to know?
Is there a cost for a T Level?
Like most 16 – 18 qualifications, T Levels are completely free.
What are the entry requirements?
In order to study a T Level at Calderdale College we require 5 GCSE passes (grade 4 or above), including English, maths and science, or a pass in a relevant Level 2 Qualification. You can find out more about our T Level transition year in the section above.
How long will I study for?
T Levels are a two-year qualification and during that time students will spend most of their time working in the classroom but will also partake in a 45-day placement in a local business.
How many UCAS points is a T Level worth?
A T Level Distinction* qualification is worth the same amount of UCAS points as 3 A Levels at A* or a BTEC Level 3 qualification at D*D*D* – meaning you get to study one course for the price of three!
Application for T Levels at Calderdale College are now open
If you have an enquiry please contact Student Services on 01422 399316.
To find out more about T Levels, visit the official T Levels website here.